Line 1:
Line 1:
 

{{Stub}}

 

{{Stub}}

−

[[File:7 - Thousand Wars Season II.png|thumb]]

+

[[File:7 - Thousand Wars.png|thumb]]

 
+

[[File:7 - Thousand Wars Season II.png|thumb|Season II title screen]]

−

{{Nihongo|'''''7: Thousand Wars'''''|<ruby>7<rt>セブン</rt></ruby> サウザンドウォーズ|Sebun Sauzando Wōzu}} was a [[Wikipedia:Freemium|freemium]] mobile social game released on October 21, 2011 by [[Namco Bandai Games]] and [https://ja.wikipedia.org/wiki/アドウェイズ AdWays]. When the service started, the application was dedicated to iPhone, but it later received Android support. However, some features and specifications implemented in the iPhone version were absent in the Android version.

+

{{Nihongo|'''''7: Thousand Wars'''''|<ruby>7<rt>セブン</rt></ruby> サウザンドウォーズ|Sebun Sauzando Wōzu}} was a [[Wikipedia:Freemium|freemium]] mobile social game released on October , 2011 by [[Namco Bandai Games]] and [https://ja.wikipedia.org/wiki/アドウェイズ AdWays]. When the service started, the application was dedicated to iPhone, but it later received Android support. However, some features and specifications implemented in the iPhone version were absent in the Android version.

 
 
−

The game was based on the [[7: Molmorth no Kiheitai|"Almethera Chronicle"]], being considered "Season I" of the game, which ends when the seven main characters started aging in the story. Gameplay-wise the playable characters don't age, and everything obtained in "Season I" could be transferred to "Season II", which added characters of different rarity. The "Season I" service ended in 2013, with only "Season II" being available afterwards.

+

The game was based on the [[7: Molmorth no Kiheitai]], being considered "Season I" of the game, which ends when the seven main characters started aging in the story. Gameplay-wise the playable characters don't age, and everything obtained in "Season I" could be transferred to "Season II", which added characters of different rarity. The "Season I" service ended in 2013, with only "Season II" being available afterwards.

 
 
 

"Season II", an update from August 21, 2012, included new elements such as allied teams and stadiums, guild battles, new characters (including characters from ''[[Venus & Braves]]''<ref>[https://app.famitsu.com/20121022_101654/ Famitsu App: 『7 セブン』で金キャラ出現率が2倍に! 『ヴィーナス&ブレイブス』のキャラも追加決定]</ref>), character enhancements, and additional effects and music.<ref>[https://app.famitsu.com/20120821_85795/ Famitsu App: セブンが超大型アップデート!生まれ変わったiPhone版『7 セブン サウザンドウォーズ シーズンII』]</ref> The "Season II" service ended on March 7, 2016.<ref>[http://gamebiz.jp/?p=155253 Social Game Info: バンダイナムコ、『セブン サウザンドウォーズ』のサービスを2016年3月7日をもって終了]</ref>

 

"Season II", an update from August 21, 2012, included new elements such as allied teams and stadiums, guild battles, new characters (including characters from ''[[Venus & Braves]]''<ref>[https://app.famitsu.com/20121022_101654/ Famitsu App: 『7 セブン』で金キャラ出現率が2倍に! 『ヴィーナス&ブレイブス』のキャラも追加決定]</ref>), character enhancements, and additional effects and music.<ref>[https://app.famitsu.com/20120821_85795/ Famitsu App: セブンが超大型アップデート!生まれ変わったiPhone版『7 セブン サウザンドウォーズ シーズンII』]</ref> The "Season II" service ended on March 7, 2016.<ref>[http://gamebiz.jp/?p=155253 Social Game Info: バンダイナムコ、『セブン サウザンドウォーズ』のサービスを2016年3月7日をもって終了]</ref>
---
Latest revision as of 19:09, 24 October 2019
68px
This article/section is a stub.
Please help this article by expanding or finishing it; if you have permission from the page owner.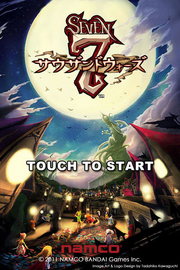 7: Thousand Wars (7 サウザンドウォーズ, Sebun Sauzando Wōzu?) was a freemium mobile social game released on October 20, 2011 by Namco Bandai Games and AdWays.[1] When the service started, the application was dedicated to iPhone, but it later received Android support. However, some features and specifications implemented in the iPhone version were absent in the Android version.
The game was based on the "Almethera Chronicle" from 7: Molmorth no Kiheitai, being considered "Season I" of the game, which ends when the seven main characters started aging in the story. Gameplay-wise the playable characters don't age, and everything obtained in "Season I" could be transferred to "Season II", which added characters of different rarity. The "Season I" service ended in 2013, with only "Season II" being available afterwards.
"Season II", an update from August 21, 2012, included new elements such as allied teams and stadiums, guild battles, new characters (including characters from Venus & Braves[2]), character enhancements, and additional effects and music.[3] The "Season II" service ended on March 7, 2016.[4]
External links
[
]
References
[
]