68px
This article/section is a stub.
Please help this article by expanding or finishing it; if you have permission from the page owner.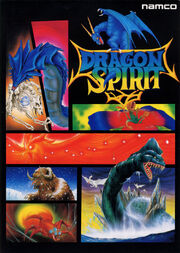 Dragon Spirit (ドラゴンスピリット, Doragon Supiritto?) is a 1987 arcade game released by Namco, published by Atari in North America. Dragon Buster was later ported for several consoles, including Amstrad CPC, Commodore 64, Sharp X68000, TurboGrafx-16 and Virtual Console, and is included in some of the Namco Museum game compilations for PlayStation, PlayStation 2 and Xbox 360. The game was also released as a LCD handheld game.
Story
[
]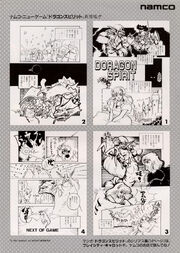 In ancient times, the sun goddess Arlia fought against the evil demon Zawell and defeated him, restoring peace. Zawell returned and captured Alicia, the princess from to the kingdom of Mitgult (ミッドガルド王国, Middogarudo Oukoku?, "Midgard kingdom" in Japan), to be used as a sacrifice. The captain Amul tried to rescue the princess, but is unable to fight against Zawell and his monsters. When he raises his sword high toward the heavens, the goddess Arlia transforms him into a powerful Blue Dragon so he can rescue Alicia.
Stages
[
]
| Stage | Boss |
| --- | --- |
| Area 1 | Plesiosaurus |
| Area 2 | Round Phoenix |
| Area 3 | Gliterias |
| Area 4 | Death Guardian |
| Area 5 | Perento Spider |
| Area 6 | Gubira |
| Area 7 | Sea Devil |
| Area 8 | Turn Away Guard |
| Area 9 | Zawell |
See also
[
]
Dragon Spirit: The New Legend
Gallery
[
]
External links
[
]