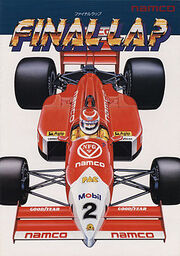 Final Lap (ファイナルラップ, Fainaru Rappu) is a racing arcade game released in Japan by Namco, then to Atari for U.S manufacturing in 1987. It is the first game to use Namco's System 2 hardware, and is the successor to Pole Position and Pole Position II (1982-1983). Final Lap was the first eight-player racing game of it's time and featured the real-life Suzuka Circuit (which would also appear in this game's successor, Suzuka 8 Hours)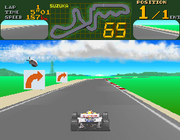 Gameplay
Gameplay is very much exact to Pole Position and it's sequel: up to eight players control a race car in the Formula One race in the Suzuka Circuit. The player can choose Formula One cars Williams-Honda, Lotus-Honda, McLaren-Porsche, or March-Cosworth. The game's circuit is greatly shortend: only taking 40 seconds to complete a lap.
Final Lap 2
Final Lap 2 is the official sequel to the original, and was released in 1990: three years after the original game. It includes tracks from Japan, Italy, Monaco, and the United States. Eight players can race against each-other in the new multiplayer mode. Japan is the hardest track in the game, and is recommended for expert players.
Lawsuit
In 1990, Philip Morris filled a copyright-infrigment against Namco, Atari, and Sega (for their game, Super Monico GP, which is much like Final Lap) for containing Malbero cigerettes billboards, which are on the real track. Philip feared that Final Lap would encourage preteen smoking, so Namco and Atari were forced to pay a settlement, while Sega had to remove the billboards.
Sequels
Final Lap (Famicom): 1988 Final Lap 2: 1990 Final Lap 3: 1992 Final Lap R: 1993 Final Lap Twin: 1989 Final Lap 2000: ???? Final Lap Special: ????