NG (エヌジー, NG?) is a newsletter magazine published by Namco in Japan and distributed freely in Namco game centers. The magazine was distributed quarterly in 14 issues between 1983-1986 and monthly in 52 issues between 1986-1993.
The magazine featured general information about Namco such as new game releases, events, interviews, and short comics by Hiroshi Fuji like Gogo no Kuni (午後の国, Gogo no Kuni? roughly "Afternoon Country") and Mei Rou Yakata no Chana (迷廊館のチャナ, Mei Rou Yakata no Chana? roughly "Chana's Perplexed Mansion Hall") The magazine would later be succeeded by Nours.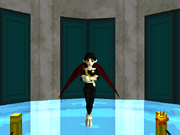 The covers of all magazines are present in the PlayStation games Namco Museum Vol. 1-5. Also, a diorama of the mansion from Mei Rou Yakata no Chana and the character Oru-Oru appear in Namco Museum Volume 5.
External links
Edit
Community content is available under
CC-BY-SA
unless otherwise noted.