68px
This article/section is a stub.
Please help this article by expanding or finishing it; if you have permission from the page owner.
Project X Zone (プロジェクトクロスゾーン, Purojekuto Kurosu Zōn?, "Project Cross Zone") is a crossover simulation RPG video game released on October 11, 2012 for Nintendo 3DS. The game features characters from Capcom, Sega and Namco Bandai.
Characters
Edit
Namco Bandai
Edit
Original characters:
.hack series:
God Eater series:
Super Robot Wars series:
Super Robot Taisen OG Saga: Endless Frontier:
Tekken series:
Valkyrie series:
Xenosaga series:
Cyberbots: Full Metal Madness:
Darkstalkers series:
Dead Rising series:
Devil May Cry series:
Ghosts'n Goblins series:
Mega Man X series:
Mega Man Legends series:
Resident Evil: Revelations:
Street Fighter series:
Dynamite Deka series:
Fighting Vipers series:
Sakura Wars series:
Shining Force EXA:
Space Channel 5 series:
Valkyria Chronicles 3:
Virtua Fighter series:
Project × Zone preview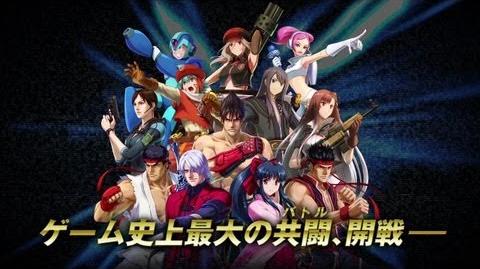 External links
Edit
Community content is available under
CC-BY-SA
unless otherwise noted.