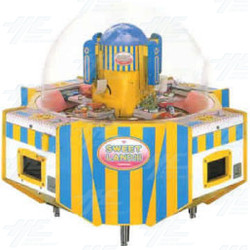 Sweet Land (スウィートランド) is a series of coin-pusher arcade game released by Namco, with the first being Sweet Land, released in 1987. While the games may have different names, they play the exact same way with slight adjustments.
Main Releases Edit
Sweet Land Edit
Sweet Land (スウィートランド) was released in 1987, and is the first Sweet Land game. The player uses the button to try and grab candy from the rotating bowl in the cabinet. The game is based entirely on luck, so a player may sometimes not receive any candy at all.
New Sweet Land Edit
New Sweet Land (NEWスウィートランド) was released in 1990.predecessor.
Sweet Land II Edit
Sweet Land II (スウィートランド2) was released in 1994.
Sweet Land III Edit
Sweet Land III (スウィートランド3) was released in 1998.
Sweet Land 4 Edit
Sweet Land 4 (スウィートランド4) was released in November 1999 in Japan and in early 2001 outside Japan. Unlike the previous series, it included soundeffects. It also featured a 7-segment digital display replacing the 4 LED credit counter. A new feature in this version is a 30sec play mode. It includes Island/Jungle BGMs and Christmas music during the year end season. The Blue/Sakura version was released in December 2002 while the Bright version was released in September 2004.
Sweet Land Plus Edit
Sweet Land Plus (スウィートランドプラス) was released in April 11, 2003. It featured a JP feature which includes a mini roulette. This feature was later used at Big Sweet Land.
Sweet Land Premia Edit
Sweet Land Premia (スウィートランドプレミアム) was released in November 2006 in Japan and in 2008 in the United Kingdom and Europe. It also has a different JP feature where the player tries to pull a block that is attached to the chute which drops the JP prize. The design was a cylinder shape instead of being a dome unlike other installments.
Sweet Land 5 Edit
Sweet Land 5 (スウィートランド5) was released in 2015 by Namco Bandai Games. There were two versions of the game, one with lights and one without lights. A chinese version was released by WAHLAP TECH.
Related Releases Edit
Sweet Factory Edit
Sweet Factory (スウィートファクトリー) was released in 1992. Unlike the other Sweet Land games, the player presses the button to have a plastic robot scoop up candy with two hands, which can double the amount of candy the player has won.
Big Sweet Land Edit
Big Sweet Land (ビッグスウィートランド) was released in July 2003 (Even if the game says 2002). The game is much larger than the other games, and the player can now win items such as plush toys and figurines because of the large size.
Wonka Sweet Land Edit
Wonka Sweet Land (ウォンカ スウィートランド) was released in 2007 (in partnership with UNIS). It plays the same as the main Sweet Land games, but the players can win Wonka-themed candy from the machine.