68px
This article/section is a stub.
Please help this article by expanding or finishing it; if you have permission from the page owner.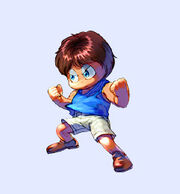 Tarosuke (たろすけ, Tarosuke?) is the protagonist from the game Shadow Land.
Tarosuke also appears as a playable character in the games Kyūkai Dōchūki, Namco × Capcom, and some games from the Family Stadium series.