Tekken 5: Dark Resurrection (鉄拳5: DARK RESURRECTION Tekken 5/Faivu: DARK RESURRECTION) is the seventh main installment of Tekken series and the updated version of PS2's Tekken 5. This game was released in Japanese arcades on 2005 and released for PS3 and PSP on 2006. An online version of this game called "Tekken 5: Dark Resurrection Online" was released as a downloadable content for PS3 on 2006. The online version can be downloaded via PSN.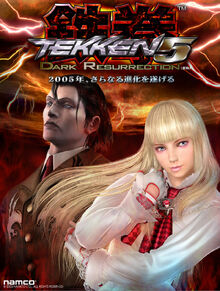 Storyline
Edit
See the storyline section on Tekken 5 page.
Characters
Edit
Returning characters
Edit
Anna Williams
Armor King
Asuka Kazama
Baek Doo San
Bruce Irvin
Bryan Fury
Christie Montiero
Craig Marduk
Devil Jin
Eddy Gordo
Feng Wei
Ganryu
Heihachi Mishima
Hwoarang
Jack-5
Jin Kazama
Jinpachi Mishima 
Julia Chang
Kazuya Mishima
King
Kuma
Marshall Law
Mokujin
Nina Williams
Paul Phoenix
Panda
Raven
Roger Jr.
Steve Fox
Wang Jinrei
Yoshimitsu
New Characters
Edit
Dragunov
Emilie "Lili" De Rochefort
Available from start
Edit
Western Gate
City Lights
Festival
Ghetto Pit
Space Colony
Aurora Australis
Autumn Temple
All Hollow's Eve
Ominous Mist
Industrial Complex
Wolves' Den
Playroom
Meteor Shower
Galleon
Inferno 
Ground Zero
Winter Palace
Unlockables
Edit
See the Stages section on Tekken 5 page.
Game Modes
Edit
Quick Battle
Story Battle
Arcade Battle
Network

Battle Loby
Data Exchange
Online (download ghosts only)

Tekken Dojo
Attack

Time Attack
Survival
Gold Rush

Practice
Bonus Games

Tekken Bowl
Command Attack

Profile
Theater
Options
Arcade Battle
Ghost Battle
VS Battle
Online Battle (requires patch)
Survival (requires patch)
Practice (requires patch)
Gallery
Options
Armor King is now playable. Not in PS2 version.
Notably the PS3 version don't have the "Team Battle" mode.
Jinpachi is now playable for PS3 version only. But he can be playable on the PSP version by hacking the game
This game currently holds a positive 9.2/10 by IGN and Gamespot, and awarded as "The Best Fighting Game of 2006" and "The Best PSP Fighting Game of 2006". Those appreciations are given by IGN.
This game was the first Tekken game on both consoles, PS3 and PSP.
Community content is available under
CC-BY-SA
unless otherwise noted.