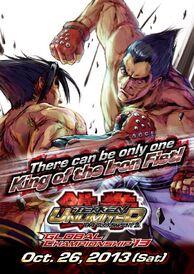 Tekken Unlimited Tag Tournament 2 (鉄拳 アンリミテッド タッグトーナメント 2 Tekken Anrimiteddo Taggu Tonamento 2/Tsu) or just Tekken Unlimited (鉄拳 アンリミテッド Tekken Anrimiteddo) is the updated version of the original Tekken Tag Tournament 2. The game was released for Japanese arcades on March 27, 2011.  A world tournament of the game was held on October 26, 2013. 
New Gameplay System
Edit
In the Unlimited version, the player can switch a ratio between Tag mode and Solo mode ("2 vs 2", "1 vs 2" or "1 vs 1"). There is also a Pair Play mode, which allows four players to fight simultaneously in pairs of two, much like the "Scramble Mode" in Street Fighter X Tekken. The Unlimited version features the Rage system from Tekken 6 for Solo mode characters, and the new tag partner Rage system from the original arcade version of Tag Tournament 2 for Tag mode characters only. Rage gives characters more damage per hit when their vitality is below a certain point. Once activated, a reddish energy aura appears around the character, and their health bar starts to flicker in red. The Netsu Power appears when an on-screen character gets attacked a certain amount of times and the off-screen character's lifebar flashes. If the on-screen character tags out while the off-screen character's lifebar is flashing, the tagged character becomes slightly stronger.
Characters
Edit
Alisa Bosconovitch
Anna Williams
Armor King II
Asuka Kazama
Baek Doo San
Bruce Irvin
Bryan Fury
Christie Monteiro 
Craig Marduk
Devil
Devil Jin
Dragunov
Eddy Gordo
Eleonore Kliesen
Emillie "Lili" Rochefort
Feng Wei
Ganryu
Heihachi Mishima
Hwoarang
Jack-6
Jaycee (Julia Chang in disguise)
Jin Kazama
Jun Kazama
Kazuya Mishima
King II
Kuma
Lars Alexandersson
Lee Chaolan
Lei Wulong
Ling Xiaoyu
Marshall Law
Miguel Caballero Rojo
Mokujin
Nina Williams
Paul Phoenix
Raven
Steve Fox
True Ogre
Wang Jinrei
Yoshimitsu
Zafina
Fontana Di Trevi
Artic Dream
Eternal Paradise
Wayang Kulit
Arena
Winter Palace
Naraku
Hall of Judgement
Heavenly Garden
Fallen Garden
Strategic Space
Bountiful Sea 
Moonlit Wilderness
Dusk After The Rain 
Community content is available under
CC-BY-SA
unless otherwise noted.