Line 1:
Line 1:
 
+

{{Stub}}

−

[[File:TouchMyKatamariThumb.jpg|thumb|177x177px|''Touch My Katamari''<nowiki/>'s icon on the PlayStation store]]

+

[[File:TouchMyKatamariThumb.jpg|thumb|''Touch My Katamari''<nowiki/>'s icon on the PlayStation store]]

−

''Touch My Katamari'', known in Japan as ''Katamari Damacy No-Vita'' (塊魂ノビータ), is a game in the Katamari series released for PlayStation Vita on December 17, 2011 in Europe and February 22, 2012 in North America. Much like other Katamari games, the goal is to amass items on the Katamari to reach a certain size before the time limit is up. ''Touch My Katamari'' also adds new features utilizing the layout of the PlayStation Vita, such as using the touch screen to both move and manipulate the Katamari in order to fit it into tighter areas or pick up more items at once.

+

''Touch My Katamari'', known in Japan as ''Katamari Damacy No-Vita'' (塊魂ノビータ), is a game in the Katamari series released for PlayStation Vita on December 17, 2011 in and February 22, 2012 in North America. Much like other Katamari games, the goal is to amass items on the Katamari to reach a certain size before the time limit is up. ''Touch My Katamari'' also adds new features utilizing the layout of the PlayStation Vita, such as using the touch screen to both move and manipulate the Katamari in order to fit it into tighter areas or pick up more items at once.

⚫
 
 
+
 
+

==External links==

 
+

*[https://katamaridamacy.jp/novita/ Official site]

 
+

[[Category:Katamari series games]]

 
+

[[Category:PlayStation Vita games]]

 
⚫
---
Latest revision as of 17:06, 10 June 2019
68px
This article/section is a stub.
Please help this article by expanding or finishing it; if you have permission from the page owner.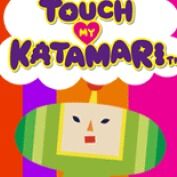 Touch My Katamari, known in Japan as Katamari Damacy No-Vita (塊魂ノビータ), is a game in the Katamari series released for PlayStation Vita on December 17, 2011 in Japan and February 22, 2012 in Europe and North America. Much like other Katamari games, the goal is to amass items on the Katamari to reach a certain size before the time limit is up. Touch My Katamari also adds new features utilizing the layout of the PlayStation Vita, such as using the touch screen to both move and manipulate the Katamari in order to fit it into tighter areas or pick up more items at once.
Community content is available under
CC-BY-SA
unless otherwise noted.