68px
This article/section is a stub.
Please help this article by expanding or finishing it; if you have permission from the page owner.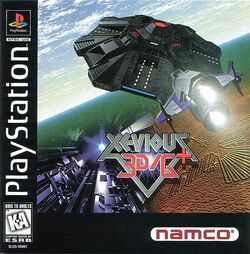 Xevious 3D/G is a Xevious arcade game released in 1996 only in Japan.
Xevious 3D/G has support for two players and has seven stages.
Throughout the stages there are structures with a crystal-like object inside that are released when broken. There are three colors representing each weapon. Taking a crystal with a different color will give Solvalou the corresponding weapon, and taking a crystal with the same color of the current weapon will improve it up to two times. If the player loses a life, all upgrades are lost, but the current weapon is kept.
Blue: Solvalou's standard zapper. Taking it with the zapper increases the number of shots to three, giving it a wider range. Taking it for a second time increases the shots to four.
Green: A green laser. The two upgrades increases the beam's size and power.
Red: Replaces both the zapper and blaster by weak lasers that searches for enemies. The player can alternate the lasers to attack all units possible or focus all lasers only in aerial units or land units. Upgrades increase the amount of lasers.
Xevious 3D/G+
Edit
Xevious 3D/G+ is a port of the game for PlayStation released in 1997. Besides Xevious 3D/G, the game also contains Xevious, Super Xevious, and Xevious Arrangement, and a few extra options like change the amount of lives and the original music by arranged music.
External links
Edit
Community content is available under
CC-BY-SA
unless otherwise noted.